"At your wedding all your loved ones come together. I capture the most beautiful memories. In one picture."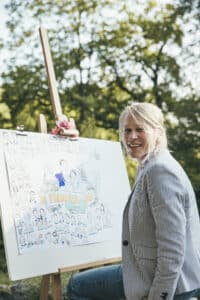 Weddingsketch – the slightly different kind of wedding drawing.
Do you still know the poetry album or friendship book? In which all your friends have written something nice? Weddingsketch is something like that. Because I do not capture your event, but the most beautiful and colorful experiences that connect the guests and you, the bride and groom. And this as small comics or sketches.
Wherever you celebrate, I set up with my easel and question your guests. How they met you. About your shared experiences and adventures: From your first tooth, your first kiss, weird parties, missed planes and great vacations.
A cheerful live act for young and old.
Weddingsketchis an unique event, where everyone can participate, but ("thank God") does not have to do anything. During which the guests remember many beautiful and funny moments together with the couple. "Ooh, wait you have to draw that too… ha, ha, ha… when Michael…." And where everyone can get to know each other in an uncomplicated way "Oh, you studied with our daughter Emily?"
And for those who would rather just watch me work at first 🙂 .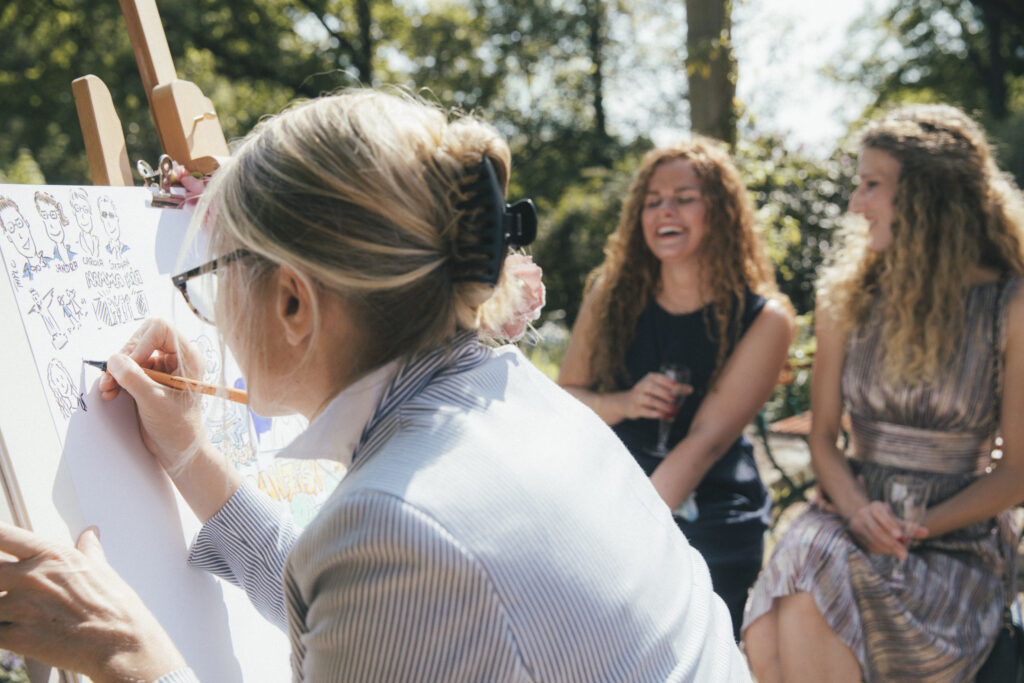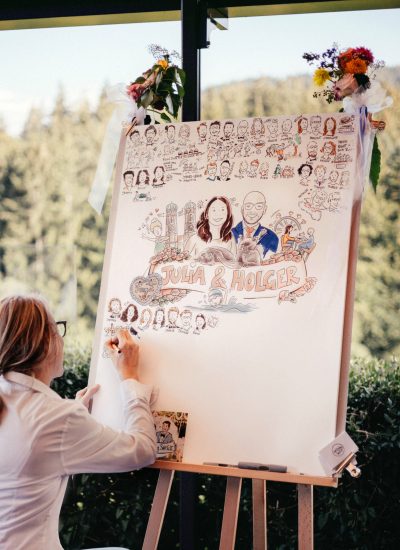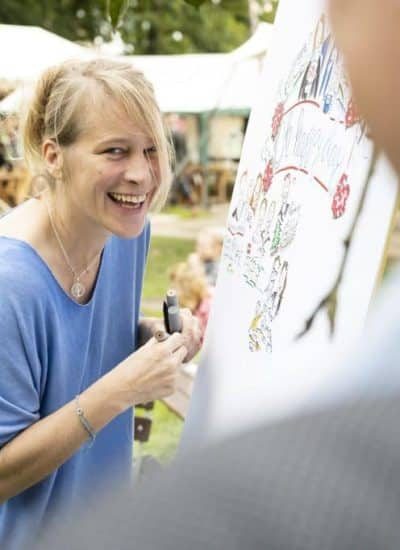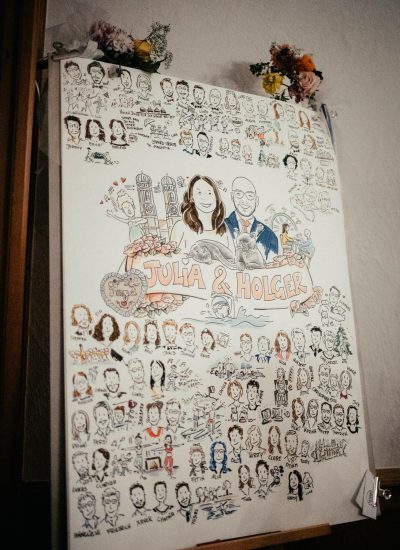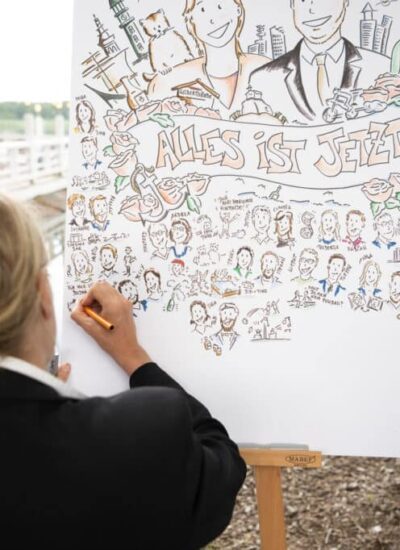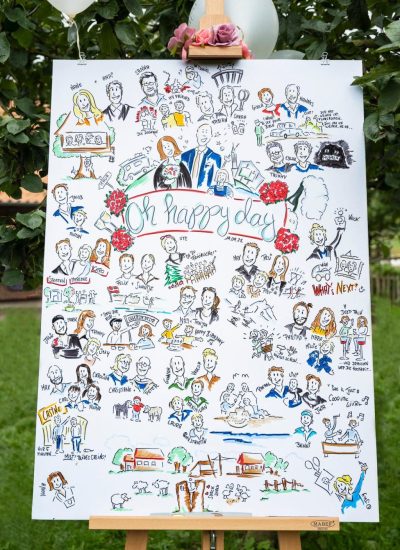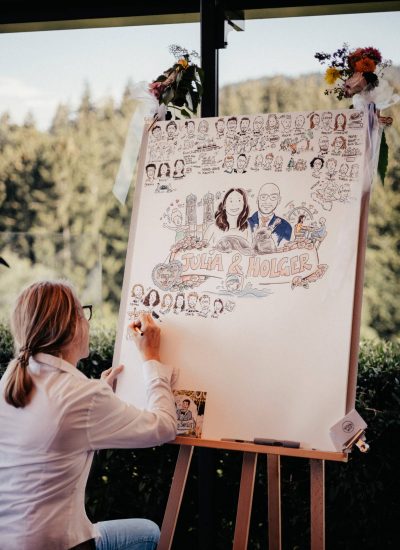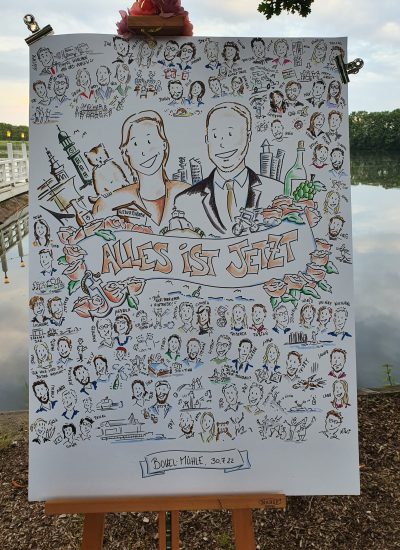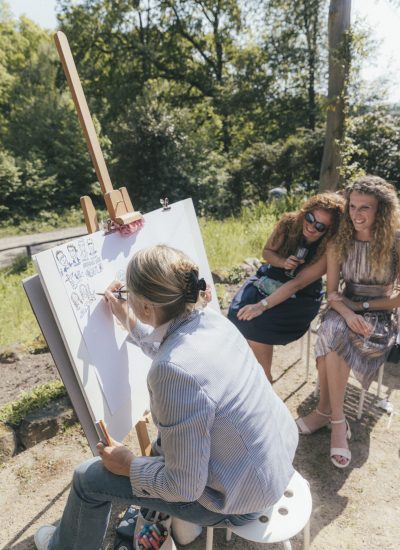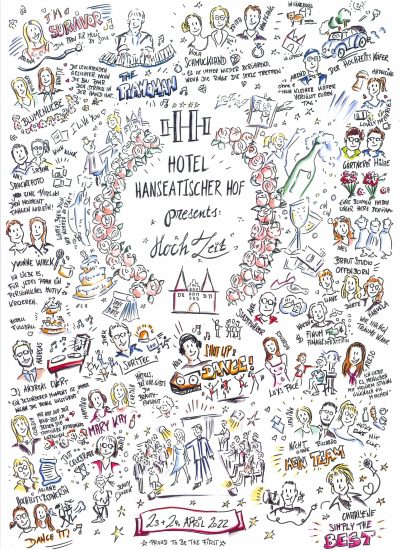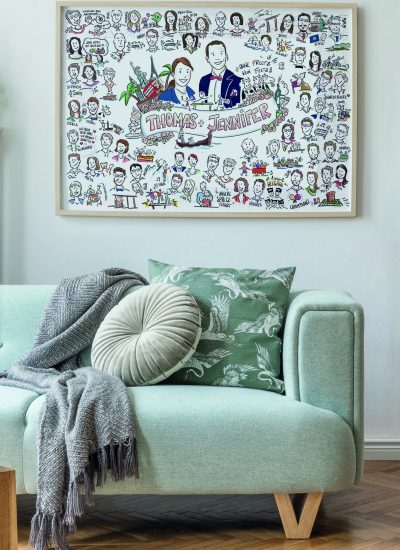 In the result: a hidden picture of beautiful memories
Weddingsketch is not only suitable for weddings, but of course also for bachelorette parties, birthdays, family or company celebrations – as supporting program or as a nice gift. More examples and works you can see here.
And this is what my customers say
Maja & Dominik
Dear Julia, we arrived well back in HH and are still raving about our wedding! Also about your work our family & friends still totally talk a lot 😀 It has already found its place of honor in our apartment and everyone stops at the picture to see what there is to discover.
Janine & Niklas
Dear Julia, we also thank you very much for were there and drew us the best guest painting ever 🙂
Isabell & Tim
Dear Julia, We would also like to thank you once very much for your Weddingsketch at our wedding thank you 🙂 It was a real Highlight and we have soo many greats Feedback from our guests and are already looking forward to hanging this great memory in the frame at home after the honeymoon. We wish you all the best. We will recommend you also very much 🙂
Mrs. P, Landshut
Dear Ms. Klaustermeyer, so far I have only enthusiastic Voices to your image and the idea heard Even my sister (studied art teacher and for me always biggest critic) was full of the Lobs what the picture is a beautiful reminder of the special day. So we have done everything right with our gift! When again calm has returned, the picture gets a protective framework and a beautiful place, I am sure! Once again, thank you very much, that everything worked out so wonderfully!
Bartelsstrasse 49 20357 Hamburg
FEEL FREE TO LEAVE ME A MESSAGE AND INCLUDE YOUR WEDDING DATE. I´LL CALL YOU BACK.